October 17, 2023
"How inappropriate to call this planet Earth when it is quite clearly Ocean." – Arthur C. Clarke
Two people who know this better than anyone were recently at ETH to give the Global Lecture Go Below: On National Geographic Assignment with David Doubilet and Jennifer Hayes – Exploring Our Seas.
David is an artist who began taking pictures underwater at 12, Jennifer is an aquatic biologist and photojournalist specialising in natural history and marine environments. Together, they have become two of the world's renowned underwater photographers, co-producing stories for National Geographic Magazine and supporting the future of ocean sciences.
The series of films and photos they presented were always artistically beautiful, but often hard to watch: dead and deserted coral reefs; infant harp seals starving on unstable ice floes.
While their work focuses on the changing ocean and the effect on its inhabitants, it does so with a neutral touch. Instead of seeking to place blame for the destruction of reef ecosystems and the extinction of animals, instead of lecturing at sceptics who may seem more interested in exploiting nature for profit, David and Jennifer "just show what's happening. That's what gets you into the corporate bubble. Bring all the voices to the story – even those you might not be comfortable with," says Jennifer.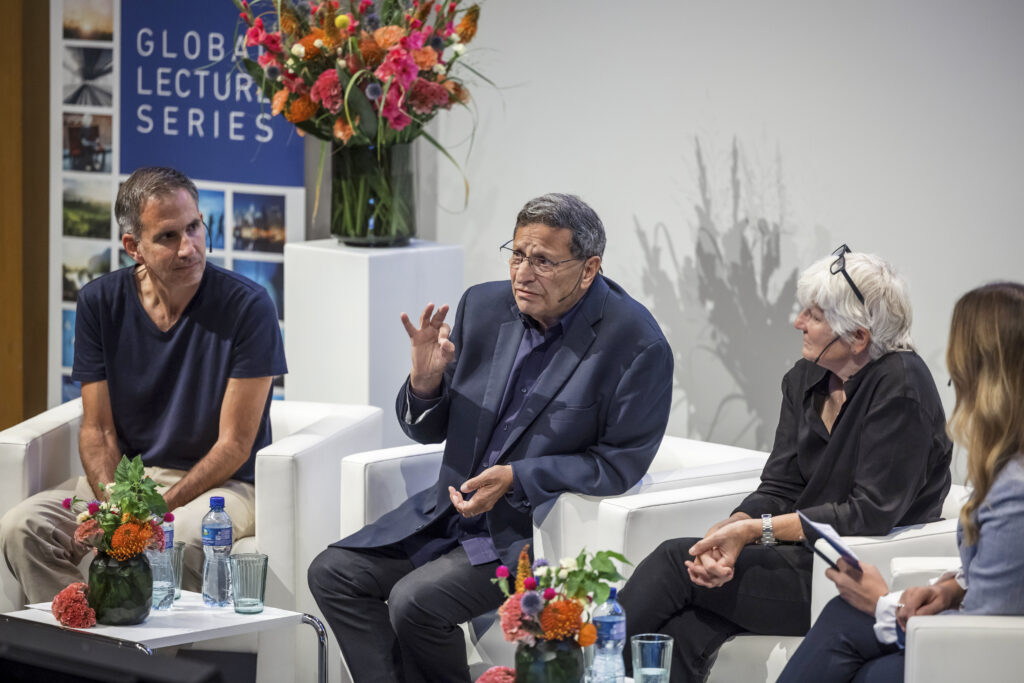 Jürg Brunnschweiler, Chief of Staff to the President of ETH Zurich, has been an independent shark researcher for the past 20 years. He agreed with Jennifer's statement: "You protect what you love, so you make them love it, show the beauty, document the state of the world, show what's happening. That changes the story – seeing is understanding."
Along with the bad news, some of the presented projects were laced with welcome optimism. The ReShark coalition, for example, launched in 2020 by the Seattle Aquarium, is working internationally to reintroduce sharks to marine areas where their disappearance has caused entire ecosystems to collapse, as sharks and rays are vanishing at an alarming rate due to fishing and habitat loss. This coalition is devoted to changing the story and "resharking" the ocean.
There has already been recorded success, with eggs laid by Indo-Pacific leopard sharks in the SEA LiFE Sydney Aquarium and brought to a shark nursery in Raja Ampat, Indonesia. There, the project follows the sharks from embryo to tank to water pen to marine protected area, tagging them and keeping track of them as they are returned to their habitats. The aim is to apply this programme to all kinds of species, starting with these sharks. This is community-based conservation, focusing on in-depth collaboration with local scientists – it's not about "us" bringing help to "them". And ReShark's work is continuing in other places around the world, with new eggs, new locations and new species to recover.
Then we are reminded that half of the Great Barrier Reef is now bleached to death due to warmer water temperatures. Coral polyps are finding it much harder to attract algae, which populates the coral under the right temperatures and feeds its inhabitants. David's collection of photographs, "Coral through the lens of time", show before and after shots of reefs – from colourful ecosystems to white, lifeless coral.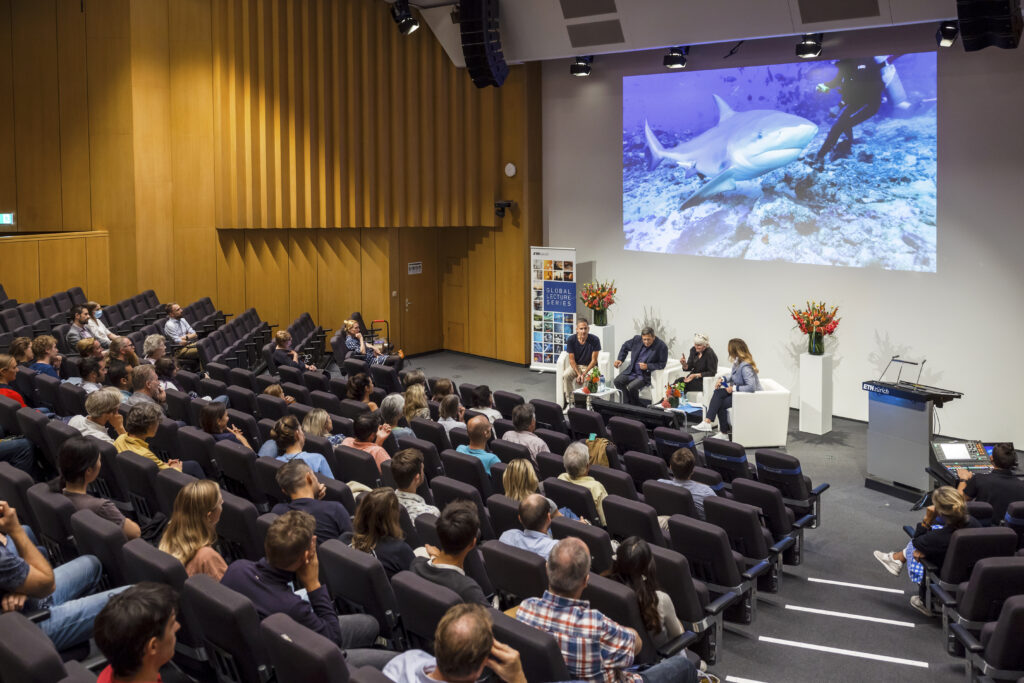 But here too there is hope, in the form of the coral ecologist and Director of the Marine Ecology Research Centre at Southern Cross University, Peter Harrison, who is working on farming out coral reef reproduction. His project collects coral polyp spawn from healthy reefs, transporting them to sea pens where they are incorporated into blankets, which then cover reefs that have been decimated, introducing the spawn where it's needed. An image of the spawn shooting up from the polyps looks like underwater snow going in the wrong direction.
Images from David's 2021 photo book "Two Worlds: Above and Below the Sea" explore the border between the ocean's surface and the space just under the water. Shot with an underwater wide angle lens covered by a large dome, the images are lit only underwater, leaving the surface light ambient. The resulting photographs are stunning, even as they highlight the need for environmental conservation.
During the panel discussion, Jürg highlighted the importance of citizen scientists who take and share photographs of life under water. A Fiji conservation project that Jürg is part of has traced sharks over the years using videos, photos and tracking devices – which offer collected data on birth, feeding an reproduction. Citizen science has created a relationship between scientists and photographers, who can provide imagery that includes positive information, which may inspire others to keep working and supporting projects that aim to bring the ocean back to life everywhere.
Jennifer expanded on this: "What's important for our future is combining forces, supporting other people, the next generation, because they will be substantial in solving future problems. We want to give the future a voice, inspire those starting out. We have talked for a lifetime and published stories for a lifetime. It's time to push other people forward … to give them a platform."
Watch the full recording:
Find out more about our ETH Global Lecture Series here.
Development & Sustainability, Events
ETH Global Lecture , Open Your Eyes