July 6, 2023
New startup CellX Biosolutions wins "best pitch" at this year's ETH SDG Pitch Event.
At CellX Biosolutions, we aim to address the unprecedented damages caused by industrial pollution on our environment, human health and biodiversity, resulting from the failure of current expensive, underperforming or environmentally harmful pollution treatment methods. There is an urgent need to fill this technology gap to restore contaminated environments and help a societal transition towards sustainable industrial processes.
To do this, we are recruiting nature's master recyclers: bacteria and their degradation enzymes. We are using a novel technology to capture in extreme environments bacteria with the strong metabolic capacity to degrade specific pollutants, such as microplastics, pharmaceuticals or pesticides. This catalog of functional biodiversity will allow us to deliver highly performant cocktails of bacteria for targeted degradation of hazardous chemicals in industry, and eventually, directly in situ.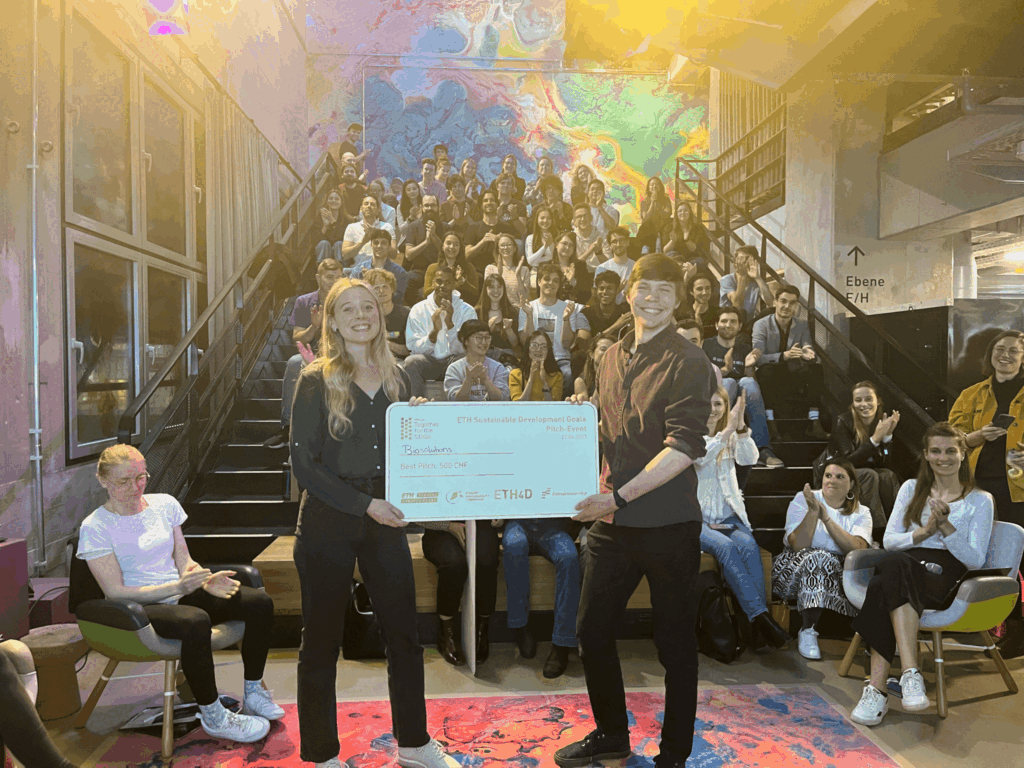 A few weeks ago, we participated in this years' SDG Pitch-Event at the ETH Student Project House. The SDG Pitch-Event is a yearly event that is for all students and researchers at ETH Zurich working on innovative projects that contribute to the UN Sustainable Development Goals (SDGs). It enables synergies with other projects, inspires fellow researchers and provides a chance to win a mentorship for projects on top of a cash prize. It is co-​organised with ETH Student Project House, ETH Entrepreneurship and ETH4D.
The audience rewarded our project with the "best pitch", endowed with CHF 500.-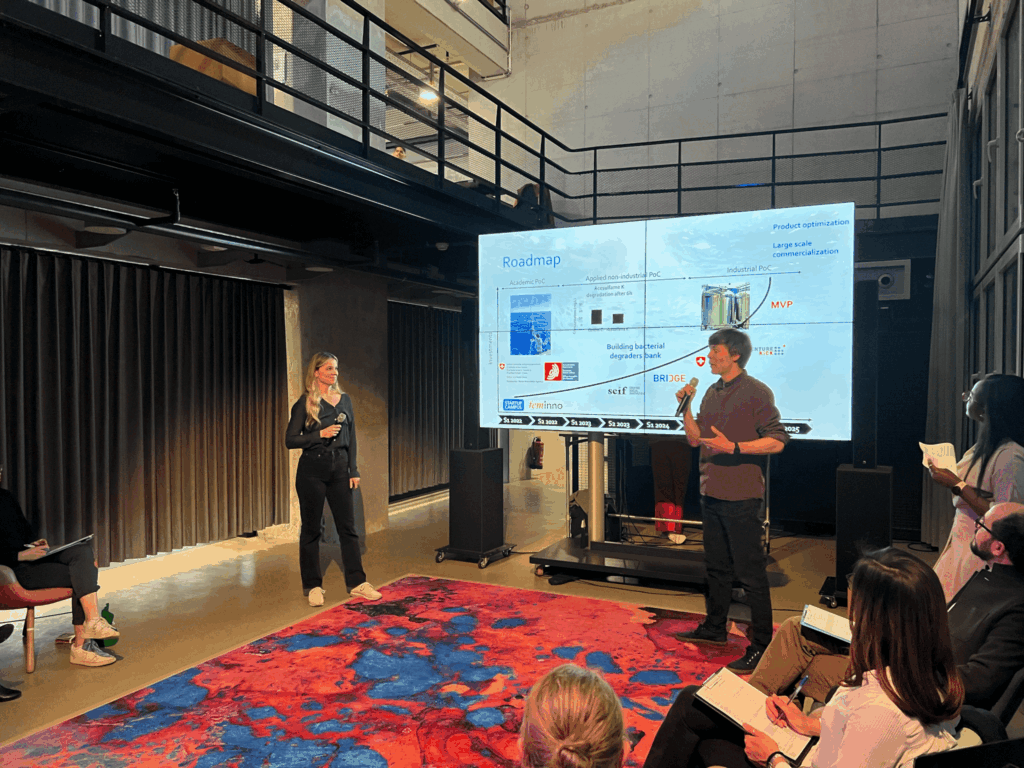 What does the win mean for us?
The SDG pitch competition at the Student Project House provided great positive feedback. Obtaining the audience vote was a great validation of our vision and really showed us that the public feels deeply concerned by this huge environmental issue, further supporting the need for alternative bio-based pollution treatment and that they have a place in the market at the moment. It was also the first public competition that we were taking part in and it felt amazing to receive such enthusiasm from the audience for our endeavor.
How will we move forward from here?
We are currently working on our non-industrial proof of concept in the lab, while also continuing to improve our technology. We are also planning to apply for funding such as the Social Impact Pioneer Fellowship* by the end of the year, which would enable us to bring our startup to the next level.
What are our future plans?
We are building a catalog of specialized bacterial consortia for commercialization as cost-efficient, highly performant, and sustainable biodegradation solutions.
The ongoing climate crisis is creating an urgent need for greener alternatives to pollution management and to reach pressing environmental goals. Our novel biosolutions will facilitate the transition to sustainable industrial processes and the restoration of our environment. Yet, in the future, we expect also to be able to use our method for pollutants and waste products for upcycling, by being able to transform these costly compounds into valuable by-products through microbial transformation.
*Social Impact Acceleration Program
The Pioneer Fellowship Social Impact Acceleration Program of ETH Zürich empowers entrepreneurial ETH students and researchers in developing their research-​based technologies into viable products and services with a social impact to successfully launch a scalable ETH Spin-​off company. The Social Impact Pioneer Fellowship is awarded to projects that serve people living with less than 10 USD per day in countries that are recipients of official development assistance. You can find more information here.
Development & Sustainability, Science & Technology
ETH Entrepreneurship , ETH Student Project House , ETH4Development , Sustainable Development Goals