June 15, 2023
Preventing blackouts with quantum topological data analysis? Join an ETH student's winning journey at a Quantum Hackathon in Abu Dhabi.
I'm Elias, an ETH student currently finishing my master's thesis abroad at the Centre for Quantum Technologies in Singapore. I applied for ETH's spot at the NYUAD Quantum Hackathon in Abu Dhabi – unsuccessfully but ending up being a part of the winning team anyway.
After finishing my master's at ETH, I plan to study quantum technologies from another angle in the context of US-China tech competition.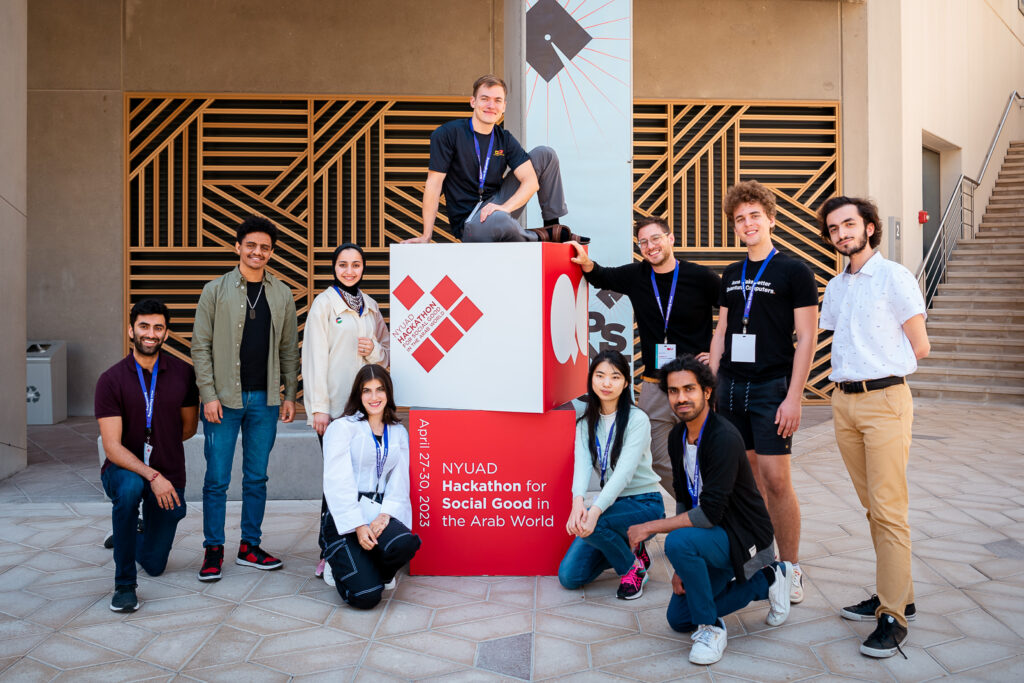 A quantum hackathon in Abu Dhabi for the UN's sustainable development goals
When I heard that the Quantum Center of ETH would sponsor one student to join a hackathon brainstorming how to use quantum technologies for the social good, I did not think twice. The hackathon, hosted by the Abu Dhabi franchise of the New York University, aimed to find impactful real-world applications of quantum computing, the absence of which had been bugging me for a while. Being co-organized by the Geneva-based science and diplomacy anticipator GESDA, I also saw it as a first step towards a more policy-centred lens on quantum technologies that I recently developed a personal interest in.
For the same reasons, I wasn't willing to just give up after hearing that my application had not been successful. Indeed, after only a few emails back and forth with goodwill from all sides but initial polite refusal, the organizer reached out herself to confirm an additional spot for me – without the sponsored flight ticket but including the five-star hotel in Abu Dhabi.
Soon after, I arrived in a different world. My first visit in the Arabian Peninsula, I was impressed by the ambition going beyond impressive construction sites and land reclamations. The organizers had flown in experts, mentors and participants from all over the world. Most of the participants were from regional universities, many with little previous background on quantum computing. This created an interesting mix, not just internationally but also interdisciplinary. The pride, media attention and solidarity with the Palestinian participants was palpable throughout the event.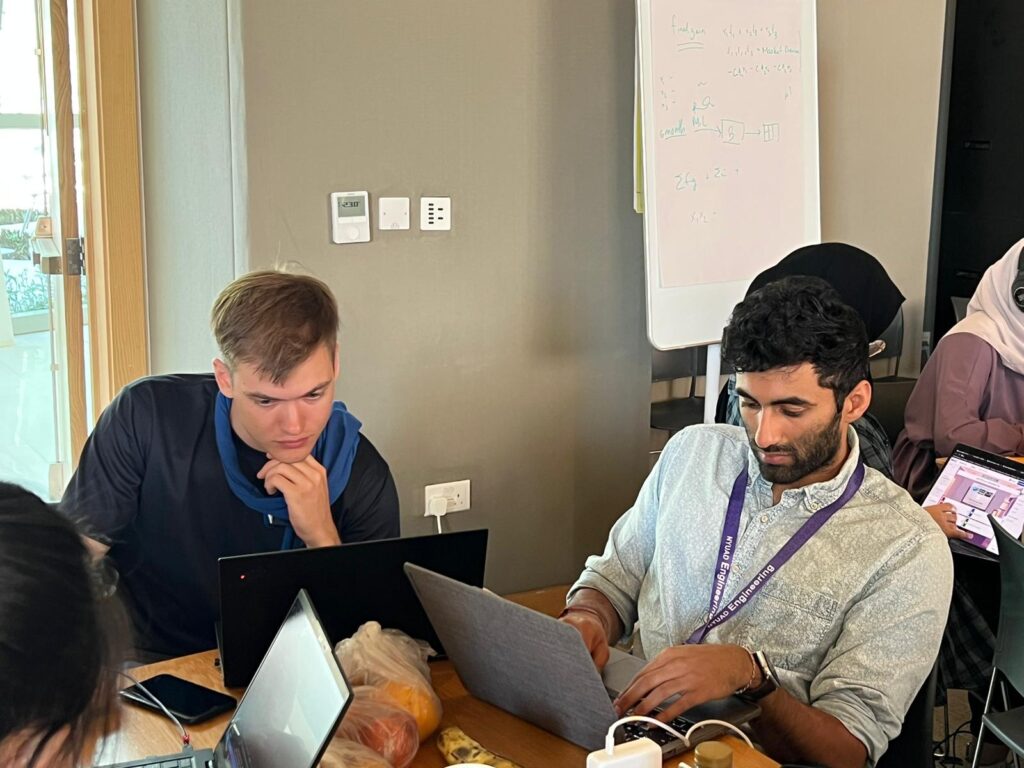 Tackling blackouts with quantum topological data analysis
I met my own team on the first day of the hackathon. I would be lying if I claimed that everything went right of the start. Scarce time was lost in circular discussions and distractions, as one might expect in a diverse team of ten. While the journey wasn't smooth, in the end, it did come together. Our five-minute pitch on how to leverage quantum computing for better power flow management featured a passionate story, web and dashboard demos as well as explanations of topology, the quantum circuits we executed on IBM's Guadalupe device and classical graph neural networks, trained the previous night. Adding a business case, it turned out, busted the time limit bringing our presentation to a sudden and unsatisfying end.
The truncated presentation was quickly forgotten, when we obtained first-hand intel from the jury deliberations that our name was on top, winning both first place and the audience choice award.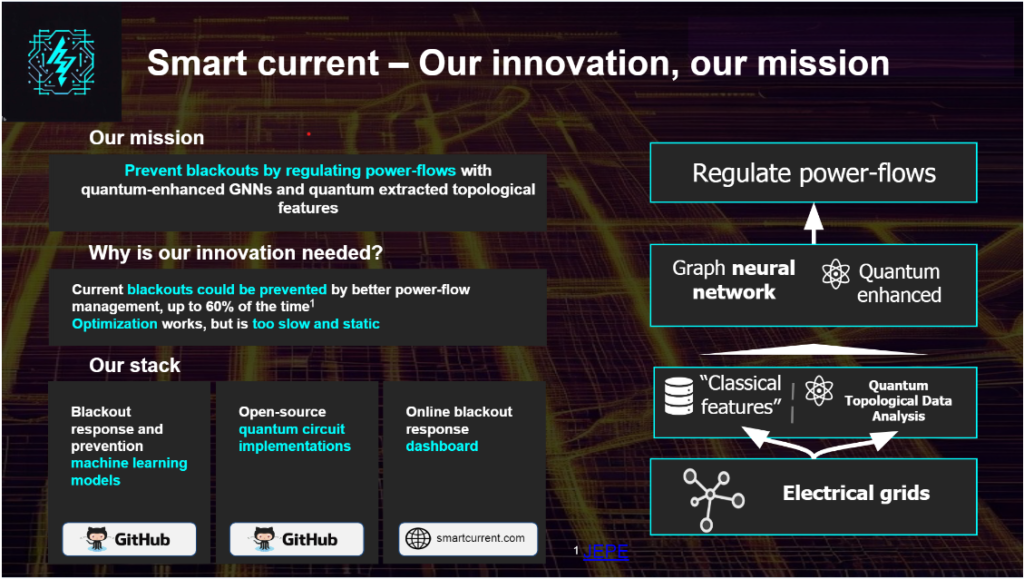 Looking back, I am incredibly proud of what I was part of and what we achieved in the 2.5 days of the competition. The end came very sudden, it was over – I was relieved, proud but also regretted some of my initial doubts and missed opportunities to connect on a personal level. While, unfortunately, the competition did not dissipate my own doubts on the near-term usefulness of quantum computing, I do believe that our solution of using quantum speed-ups in topological data analysis to extract features for graph neural networks has some real potential.
Luckily the journey doesn't end here, as our team will come back together in October to present at the GESDA summit in Geneva.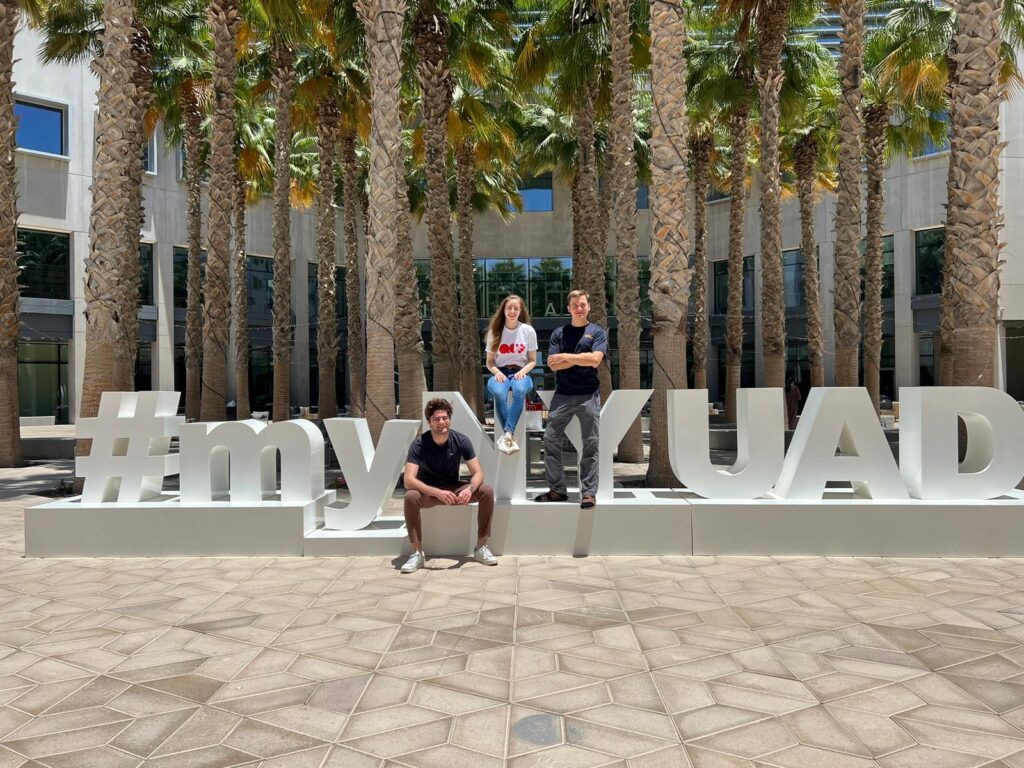 Connecting & Exploring, Development & Sustainability, Science & Technology, Society
#myNYUAD , Abu Dhabi , Hackathon , Sustainable Development Goals