As part of the ETH Studio programme with zkipster, I had the opportunity of spending two weeks at the company's office in New York City. In spite of a rather demanding schedule, I did get to enjoy the city whilst on my first big real-world work experience as a data scientist at zkipster, exploring future business opportunities that can be built on top of existing data patterns.
When I came into the office on Monday morning, I was greeted by a stunning view. I knew I would be working in a building on Broadway, but I expected a window into a narrow side street, not a 23rd floor corner office overlooking the East River and the iconic New York City skyline. This was a pleasant change from the usual Zurich cafés and lecture halls I spend my time at.
I must admit, the part I was most anxious about were the planned "workshop"-like meetings with zkipster's design, marketing and product development teams. On the one hand, I was going to finally meet the people behind zkipster's event management software; on the other, I was worried: there is, in my opinion, justly so, the stereotype of meetings being long, boring, and unproductive, something I had been warned a lot of while growing up. As a student yet to get his bachelor's degree, I hadn't had many work opportunities, and was therefore curious as to how this would go down.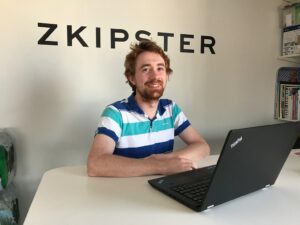 I was positively surprised. Everybody present was very welcoming and genuinely curious to meet me and let me explain what I had been working on and how. The meetings were very lean and on point, in spite of not having a strict agenda. I was able to explain graph theory, record matching and other concepts, how they could be applied to developing new functionalities in the software, in a way that was understandable and clear for colleagues with different backgrounds. These interdisciplinary exchanges yielded in fresh ideas and grew an understanding and appreciation of one another's work and proficiency in respective fields, especially in the case of the design and marketing team. Experiencing first-hand that it takes a team to develop new products, and that their complexity requires an early communication of need and requirements, for all involved parties to have the necessary time to adapt their parts of the software, was a memorable moment for me.
My only interaction with product design had been, until that point, solely through museum exhibitions and a seminar at ETH Zurich on human-computer interaction that I had attended the previous term. Through talking with Ramy, the Head of Design, and Alex, a communications expert, I became aware of the real-world challenges that they faced; we discussed how status notifications and loading bars affect the experience of the end-user, how interface design is key to making software that is pleasant to use and ultimately successful—something of which, as person that spends a lot of time in the command line, I had not considered the implications of.
My two weeks stay also entailed a number of private events with my co-workers, lunches around the block and a team dinner at an iconic New York city eatery. This was a great opportunity for me to get to know them better, which brought us closer together as a team, and improved communication in later meetings and calls, turning this into a truly remarkable and learning experience.
By Michal Sudwoj
---
Michal Sudwoj studies Computational Science and Engineering at ETH Zurich and is working with zkipster on a ETH Studio challenge.