SpaceHopper's Cosmic Leap at Techfest IIT Bombay
Alexander Spiridonov, Fabio Bühler, Valerio Schelbert, 16 February 2023
A small team from the focus project SpaceHopper had the opportunity to exhibit their robot at IIT Bombay's Techfest.

Exploring the Best of Indian Culture
India is a country that is rich in culture, history, and beauty. From the bustling streets of Delhi to the picturesque beaches of Goa, there is something for everyone to enjoy. Recently, we had the opportunity to embark on a three-week journey through some of India's most iconic destinations, before attending IIT Bombay's Techfest.
First stop: Delhi. The capital city of India is a melting pot of history and modernity. Our journey began with a long and exhausting flight. The Indira Gandhi International Airport was bustling with activity, and we quickly realized that this was just a taste of what was to come.
We spent three days in Delhi exploring the city and immersing ourselves in the Indian culture before moving on to Jaipur, famously known as the "Pink City." With its beautiful architecture and vibrant markets, Jaipur offered a refreshing change from the hustle and bustle of Delhi. Our next stop was Jodhpur, the "Blue City," which stole our hearts with its blue-painted houses and the magnificent Mehrangarh Fort. The fort provided a stunning backdrop for sunsets and further solidified our love for the Indian people.
Jodhpur was our last stop in Rajasthan. From here we went on to Mumbai, the financial capital of India. This city never rests, offering an endless array of activities. We spent a full week discovering all that Mumbai had to offer and made the most of our time there.
The Main Event: IIT Bombay Techfest
After our travels, we were eager to participate in the IIT Bombay Techfest, a prestigious annual science and technology festival held at the Indian Institute of Technology Bombay. This festival is one of the largest and most prestigious of its kind in India, offering a wide range of events, competitions, and workshops in areas such as robotics, programming, artificial intelligence, and more.
As international exhibitors, we had the opportunity to showcase our robot, SpaceHopper, to festival visitors over the course of three days. Presenting our robot and interacting with people for 8 hours a day was challenging, but also incredibly rewarding. We were impressed by the enthusiasm of visitors ranging from 5 years old to 80 years old.
After a grueling three days, we finished the last day of exhibitions at 5 pm and attended the closing party event of the Techfest. Despite our hoarse voices, we had many meaningful conversations and were introduced to the Indian way of partying.
A Relaxing End to a Wonderful Journey
Finally, we ended our journey in Goa, a state known for its beautiful beaches, delicious seafood, and laid-back atmosphere. This last stop was the perfect place to recover from the exhausting three days at techfest and to reflect on the last three weeks. We spent our days relaxing on the beach and trying different seafood dishes.
Thank You

We would like to extend our sincere gratitude to ETH Zurich for giving us the opportunity to attend the IIT Bombay Techfest and showcase our robot SpaceHopper. This experience has been truly enriching and unforgettable, providing us with a chance to not only showcase our work, but also to immerse ourselves in the Indian culture and meet a diverse group of people. Thank you for your support and for giving us this once-in-a-lifetime opportunity.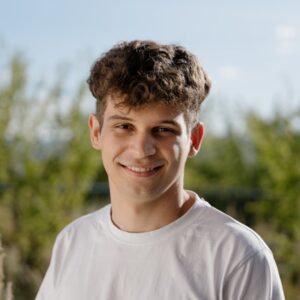 Fabio Bühler
Fabio is a mechanical engineering student at ETH Zurich. Following his passion for robotics, Fabio participated in the Focus Project SpaceHopper, where he helped develop the robot that was showcased at IIT Bombay Techfest. V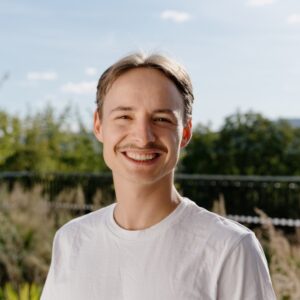 Valerio Schelbert
Valerio Schelbert is a student at ETH Zurich and a member of the Focus Project SpaceHopper, where he worked on the development of the robot SpaceHopper. He is passionate about robotics and is continuing to work on the project to push legged space robotics forward.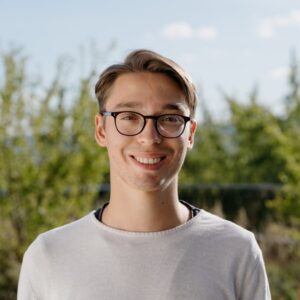 Alexander Spiridonov
Alex is a robotics, systems, and control student in his masters at ETH Zurich. He participated in SpaceHopper and is still a core member of team. Alex is continuing his work on reinforcement learning on the robot and will help push legged space robotics further.