ETH Solidarity with Ukraine
by Priya Mohanty, ETH4D, 12 May 2022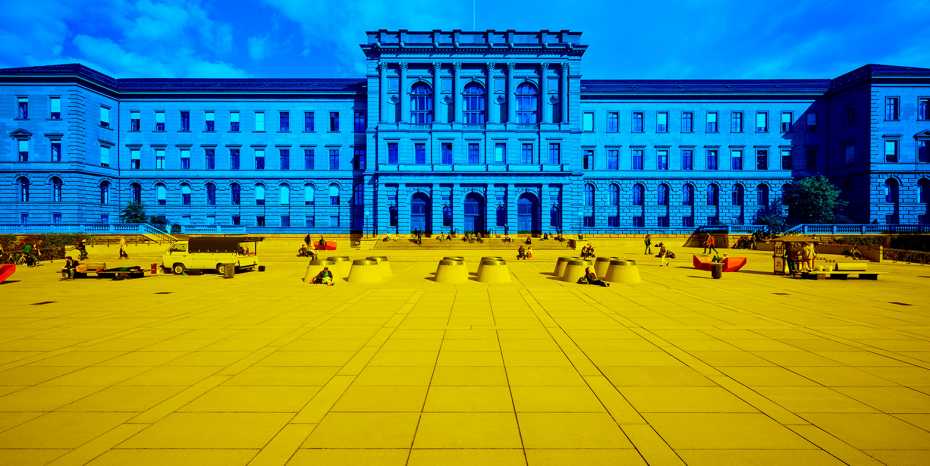 We talked to ETH4D's Grant Manager Patricia Heuberger, who has been appointed as the Scholars at Risk Coordinator in the ETH Support Group Ukraine. She has been closely working together with ETH professors to directly support Ukrainians who had to flee to Switzerland. She talks about how the ETH Support Group Ukraine came to life, her experiences as the Scholars at Risk Coordinator, and what she takes away for the future.
To support affected students and researchers by the war in Ukraine, ETH set up the Support Group Ukraine. What did it take to make it happen?


It all started with Prof. Maksym Kovalenko, professor of functional inorganic materials from D-CHAB, himself Ukrainian national, who was very active from the beginning of the Ukrainian war. In his personal capacity he early on connected his own family and friends. Step by step, these efforts and an increasing amount of e-mail requests, landing on the desks of professors and administrative staff, inspired ETH president Prof. Joël Mesot to set up a coordination group within ETH Zurich, dedicated to supporting Ukrainian researchers and students at risk. It was very impressive to see how quickly things moved from then on. It merely took two weeks to get the first ball rolling and to set up the support group.


How was it possible for things to move so fast?


ETH learned a lot from the COVID-19 pandemic, during which ETH also had to set up a task force speedily. ETH largely followed the same process and structure. But the urgency of the situation surely put pressure on the speed of things. I guess if it is a matter of an emergency, even an institution as large as ETH can master administrative and bureaucratic hurdles rather quickly. That is one of the things that impressed me most in the process – the pragmatism ETH has proven to be capable of. Essentially, the solidarity that ETH, its faculty, employees, and students showed and continue to show is what truly impressed me and makes me proud of being part of the ETH community in general, and the Support Group Ukraine in particular.

How would you describe your experience working for the ETH Support Group Ukraine?

It has been very humbling, to say the least. Getting to know the stories of the people who had to flee to Switzerland truly made me realise how quickly a normal, happy life can turn into a mess, or at least to a huge challenge. Many of these female scientists are in my age group with kids in similar ages as my own. They were employed at a university – like me. There are so many similarities, that every story of the struggles they faced to come all the way to Switzerland have been very touching. Most of the people who have reached out to us have been able to get themselves to safety, but they all faced the same dilemma, ultimately having to make the difficult decision to not only leave their homes behind but also their communities, their old parents, husbands and friends.

What have been the biggest challenges the Support Group has faced?

The scope and the speed of the situation has been overwhelming: the number of enquiries and consultation meetings, the number of researchers and assistants we have been communicating with. Staff from across ETH has been involved, from students to professors to employees in the rectorate and central administration. Everything was happening simultaneously: setting up the processes and structure, defining roles and responsibilities, responding to matters completely new to us, redefining these processes, structures, and regulations. And also, the dependency on the federal administration, which was at the beginning rather chaotic. This all required a lot of communication and coordination.
On top of that, there are external factors we do not have any control over. Ultimately, everything depends on the State Secretariat for Migration. 12 Ukrainian researchers have been funded through the Scholars at Risk programme, but the majority is still waiting to receive the newly introduced permit Scall_made. Without the S permit, HR cannot issue the working contract.

What do you take away for the future?

A lot is possible within ETH Zurich when everyone pulls in the same direction. ETH is able to move fast and pragmatically. I remain hopeful that we can learn from this situation so that ETH will continue to respond to other important matters in a similar fashion.
More information

The Swiss National Science Foundation SNSF has provided funding to support researchers from Ukraine through the funding programme "Scholars at Risk". Since end of April, these funds are used up.
For ETH faculty: The ETH executive board has set aside funding to support the hosting of Ukrainian scientists. These are matching funds, which need to be combined with funds from the professorship or department. See
here
for eligibility and application criteria (section researchers/employment).
About Patricia Heuberger